Site Map
Contact Us


BEE IMMUNE ULTRA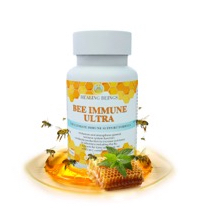 BEE IMMUNE ULTRA- Immune Support Formula Provides safe, natural support to increase overall immune system function, increase resistance to infections which may include the flu, and enhance overall well-being.

This product is used by major Alternative Medical Doctors across the Nation under their own label.

A natural solution to improve well-being, increase immune system function and increase resistance to infection. Active Ingredients: Proprietary blend of medicinal mushrooms including Cordyceps, Reishi, Maitake and Trametes, plus Elderberry 25:1 extract, Ashwagandha, and Bee propolis.

Warning: Contains bee products. Avoid use if pregnant and any history of severe reactions or allergies to bees. If rash develops, discontinue use and consult a physician These statements have not been evaluated by the FDA. This product is not intended to diagnose, treat, cure or prevent any disease.



To order
CLICK HERE