Site Map
Contact Us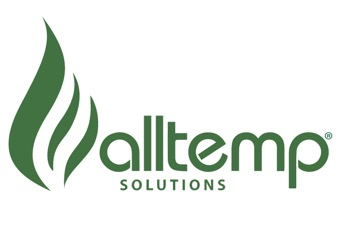 alltemp recap of L Reefer Test (a Port of Seattle specified container was used)


A reefer container consists of a container shell, with a heat-insulated foam layer, and a refrigeration unit. The temperature setting is typically adjusted between -30oC and +30oC, although more extreme temperatures can be accommodated depending on equipment model and specification of the refrigeration unit.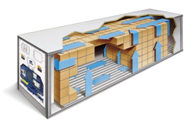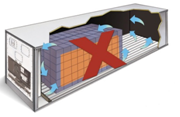 click here
to visit them)

*Air flow illustration example, adapted from Carrier Transicold (diagrams courtesy of Mitsui O.S.K. Lines (
Reefer containers are used for transporting temperature-sensitive cargoes. These mainly consist of foodstuffs
such as meat, seafood, dairy products, beverages, fruits and vegetables. Non-food items, like live plants,
photographic film, chemical and pharmaceutical products are also commonly transported in reefer containers.

Results from Reefer test with Carrier Transicold head unit (Model # 69NT40-551-510) (2008):
Time to cool Reefer from 100 degrees Fahrenheit to 32 degrees Fahrenheit.


R-134a

Time: 46 minutes
Best Delta T: 14
Delta T at 32 degrees: 8
alltemp™ L
Time: 31 minutes (33% less cooling time)
Best Delta T: 18 (plus 4 Best Delta)
Delta T at 32 degrees: 16 (100% Greater Delta T at 32 degrees)


(click any of the links below for more information)



SEI Corp is the Exclusive Panama Distributor
visit www.alltempsolutions.net for all your worldwide refrigerant replacement needs


Luis Phillips
507-661 63209
email us

Gary Mason
818 707 3481 ext 1
email us

Laura Marchesano
818 272 5185
email us