What is alltemp®?

Green universal refrigerant replacement for environmentally detrimental refrigerants that are being phased out by governments worldwide

Proprietary technology which is the subject of five separate United States and international patent applications for a universal refrigerant and manufacturing process

Broad Application refrigerant: Heating Ventilation, Air Conditioning, Refrigeration, foam insulation and industrial solvents

Energy saving technology: providing significant kWH Savings through reduction in compressor amp draw and leakage


How is alltemp™ installed?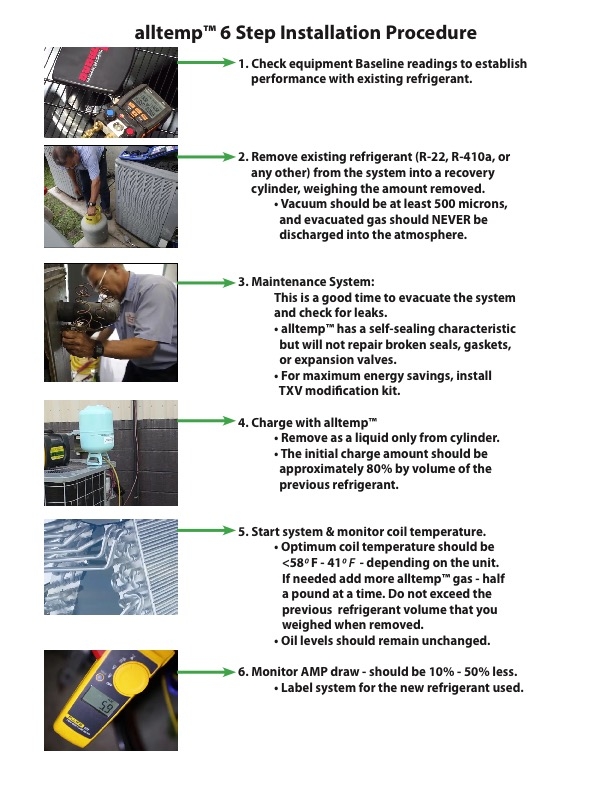 WHAT STUDIES HAVE BEEN DONE?

Studies have been done and continue to be done for both industrial, residential, and commercial use. Here is a certified executive summary from a major hotel in Chicago: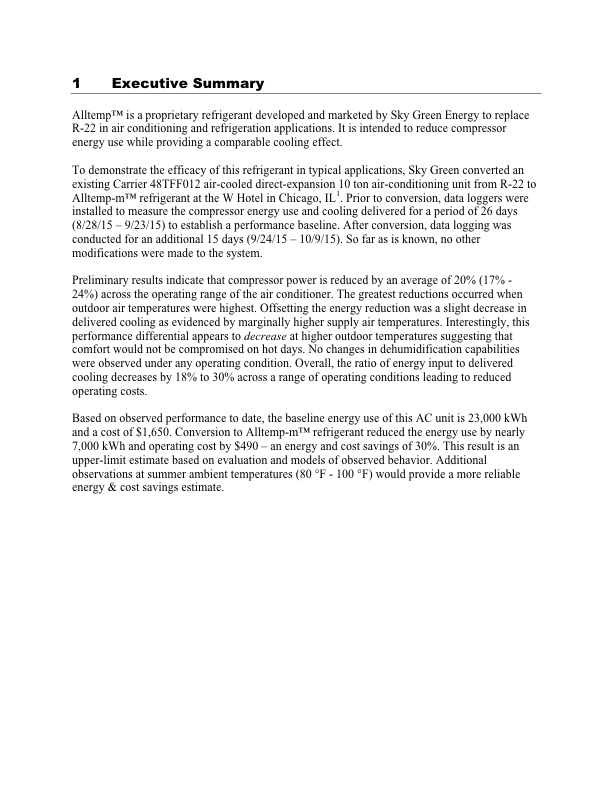 alltemp recap of L Reefer Test (a Port of Seattle specified container was used)


A reefer container consists of a container shell, with a heat-insulated foam layer, and a refrigeration unit. The temperature setting is typically adjusted between -30oC and +30oC, although more extreme temperatures can be accommodated depending on equipment model and specification of the refrigeration unit.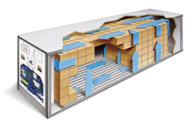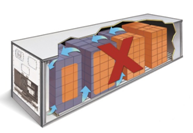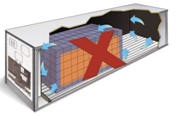 *Air flow illustration example, adapted from Carrier Transicold (diagrams courtesy of Mitsui O.S.K. Lines (
click here
to visit them)

Reefer containers are used for transporting temperature-sensitive cargoes. These mainly consist of foodstuffs
such as meat, seafood, dairy products, beverages, fruits and vegetables. Non-food items, like live plants,
photographic film, chemical and pharmaceutical products are also commonly transported in reefer containers.

Results from Reefer test with Carrier Transicold head unit (Model # 69NT40-551-510) (2008):
Time to cool Reefer from 100 degrees Fahrenheit to 32 degrees Fahrenheit.


R-134a

Time: 46 minutes
Best Delta T: 14
Delta T at 32 degrees: 8
alltemp™ L
Time: 31 minutes (33% less cooling time)
Best Delta T: 18 (plus 4 Best Delta)
Delta T at 32 degrees: 16 (100% Greater Delta T at 32 degrees)



SEI Corp is the Exclusive Panama Distributor
visit www.alltempsolutions.net for all your worldwide refrigerant replacement needs


Luis Phillips
507-661 63209
email us

Gary Mason
818 707 3481 ext 1
email us

Laura Marchesano
818 272 5185
email us